Thank you for supporting us in our campaign
There are many ways that you can make a donation to support the Hythe Pier Heritage Association. These are as follows;
Whichever method you choose, it is important that we can identify you, so please add your phone number as a reference to any bank transfers and include your email address and phone number on the back of any cheques.

---

Bank Transfer
If you wish to make a donation by bank transfer, please use the account details listed below. Please ensure you enter your phone number as the reference number so we can contact you if necessary.
Lloyds Bank
Account Name: Hythe Pier Heritage Association
Sort Code: 30-99-98
Account Number: 59831468
---

Cheque
We can accept payment via cheque. Pleaase ensure your name and email or phone number is clearly written on the reverse of the cheque. Cheques can be posted or handed in to;
Hythe Pier Heritage Association
The Grove
25 St. John's Street
Hythe SO45 6BZ
---

Online payment
We accept online donations for HPHA. To do this we use PayPal but you do not require a PayPal account to use this service.
Click on the PayPal logo and you will be directed to a special page where you can make your donation. Follow the instructions you will find on that page.
---

Cash
Should you wish to make a cash donation then please contact us so we can make arrangements to accept it from you.
---

Donate As You Shop Online
Did you know that whenever you buy anything online – from your weekly shop to your annual holiday – you could be raising funds for Hythe Pier Heritage Association, without costing you a penny?

There are over 3,300 retailers including;

Ready to give a donation to Hythe Pier Heritage Association every time you shop online (or click and collect) ? It's really simple, and doesn't cost you a penny. Start by clicking on the button to register with EasyFundraising
Once registered, every time you shop online go to

https://www.easyfundraising.org.uk

and search for the website you wish to buy from (eg Amazon UK), click on Shop Now and shop as normal. When you buy items, a donation will be made to HPHA at no extra cost to you.
---
Donate Old & Foreign Money
Across the UK today there are millions of pounds worth of foreign coins and notes that are going to waste. This is because banks won't exchange foreign coins and some low denomination notes back into Sterling. A lot of us also have old coins and notes that are out of circulation such as Spanish Pesetas and German Marks that can't be spent or exchanged. Furthermore many people also have old British and Irish coins as well as pre-decimal coins and notes.
So instead of this foreign currency just sitting there, why don't you donate it to Hythe Pier Heritage Association
Thank you to everyone who has donated their foreign currency into our HPHA Cash for Coins tubs. Thanks also to
The Herald – Your Community Magazine
Hythe Post Office
Southampton Post Office
Hythe Pier office
for allowing us to place collection pots with them.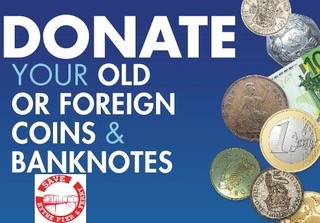 We always welcome other businesses/shops who are willing to host one of our Cash for Coins tubs. Please do get in touch